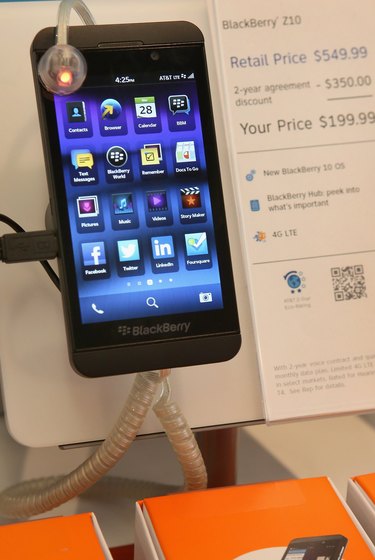 Considering the large amount of information stored inside, losing the password to your BlackBerry device can be disastrous for your business and personal life. Fortunately, BlackBerry created a means to reset your password should you lock yourself out of your device. You can also, however, choose the "nuclear" option -- completely resetting your phone to factory defaults.
Resetting Your BlackBerry ID Password
There are two ways to reset your password for your BlackBerry device before resorting to a full reset. The first is to reset the password from your device by tapping or clicking the "Forgot Password" button when prompted to sign into your BlackBerry ID. You will have to answer your security question and follow the on-screen instructions. The second option is to reset your password from a computer. Visit the BlackBerry ID reset page linked in the Resources section, click "Reset your password" and follow the on-screen instructions. In both cases, an email will be sent either to the email account associated with your BlackBerry ID or the device itself. The email will include instructions on completing the password reset and regaining access to your BlackBerry ID and device.
Automatic Security Wipe
If you can't reset your password, your only option is to completely reset the phone. A full security wipe can be initiated from within the operating system, as detailed below. However, when you're locked out of the operating system, your only option is to force the automated security wipe. Enter an intentionally incorrect password ten times to initiate the wipe. This will erase all data on the phone and revert it to factory settings, so be sure there is no alternative before you try this option.
BlackBerry 10 Device Security Wipe
Once you actually can gain access to your device, it may be prudent to perform a security wipe yourself, especially if your phone has recently gone missing or been stolen. For devices running BlackBerry 10, such as the Z10 and the Q10, do so by swiping down from the top of the home screen and tap "Settings," followed by "Security and Privacy" and "Security Wipe." You will be prompted to enter the word "blackberry" into the text field to confirm the wipe, at which point you can tap "Delete Data" to begin the wipe.
BlackBerry OS 7 Device Security Wipe
Devices running earlier versions of the BlackBerry OS, like the BlackBerry 9930, can also be manually security wiped after a theft. To begin the wipe, click "Options" followed by "Security" and "Security Wipe." Check off the check boxes for the data you wish to remove, then type "blackberry" when prompted and click "Wipe Data" to begin the wipe.