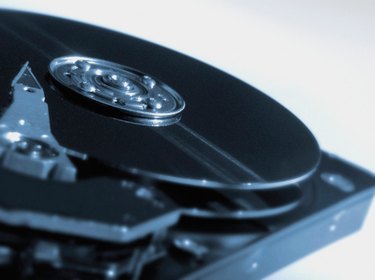 My Passport is one of the external storage product lines produced by Western Digital, or WD. My Passport drives are designed for on-the-go use, unlike the enlarged devices found in the My Book series. Passports have slim cases constructed of heat-sinking materials such as aluminum -- which compensates for the lack of built-in fans. They range in storage capacity from 250 GB up to 1 TB, although out of the box this amount is diminished because of the installation of SmartWare, WD's user-friendly software. You can reset the password on My Passport from within the application if need be.
Step 1
Click "Start" and select "Computer." Double-click the CD-ROM drive, then double-click the "SmartWare" application; on a PC, the application is listed as "WD SmartWare.exe," and on a Mac it is listed as "WD SmartWare.app."
Step 2
Click the "Settings" tab. Click "Set Up Drive."
Step 3
Select "Install" and accept the "End User License Agreement" when prompted. Click "Continue Setup."
Step 4
Open the "Security" tab. Type your current password into the box labeled "Password." Enter a new password and a new password hint. Confirm by checking the "I Understand" box and clicking "Update Security Settings."