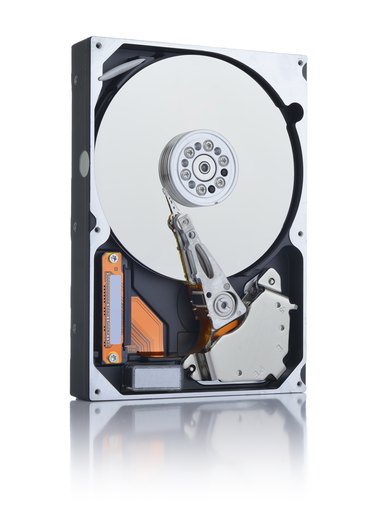 Keep your hard disk drives and solid-state drives running smoothly by keeping their firmware up to date. If you've recently installed new hardware or an operating system on your computer, then you may want to update firmware and drivers for your hardware components. After you've downloaded your new firmware from the manufacturer's website, burn the ISO to a disc and perform the upgrade during system boot.
Check Your Firmware Version
Step 1
Press "Windows-Q" to open the Windows Search charm, type "device manager" and then select "Settings."
Step 2
Select "Device Manager" from the search results.
Step 3
Select "Disk Drives" from the Device Manager to expand the device tree. Right-click on your HDD or SSD and then select "Properties."
Step 4
Click on the "Details" tab.
Step 5
Select "Hardware IDs" from the Properties drop-down menu. Your drive's manufacturer and firmware version appear in the Value box.
Download Firmware Update
Step 1
Open the website for your hard drive's manufacturer.
Step 2
Click on the link for the company's support page. This link will vary depending on the website. For example, click "Support," "Downloads" or "Drivers."
Step 3
Enter the model number for your HDD or SSD into the support search field. For example, search your model number using the "Search Knowledgebase," "Search Downloads" or "Model / Parts ID" field.
Step 4
Check for updated firmware. If newer firmware is available, click on the download link associated with it. For example, click "Download," "Install" or "Download Firmware." If available, select the option to download the update to install on a portable USB drive -- then you can install it, skip the disc burning step and boot from USB.
Burn ISO and Upgrade Firmware
Step 1
Open the file location containing the ISO that you downloaded.
Step 2
Right-click on the ISO file and then click "Burn Disc Image."
Step 3
Insert a writable disc into your computer's disc tray.
Step 4
Select your optical drive from the "Drive Burner" drop-down and then click "Burn."
Step 5
Restart your computer with the disc loaded in the drive. If necessary, press "F2," "F10," "F12" or "Esc" when the BIOS loads to open the boot options menu.
Step 6
Select your optical or USB drive using the arrow keys and then press "Enter."
Step 7
Follow the firmware upgrade instructions. The upgrade process will vary depending on the hard drive and firmware versions.