ASUS E-Green is a technology reduces the power consumption of computer optical drives including DVD and Blu-ray players. E-Green forces an optical drive to enter an idle state quickly after finishing a task, reducing the running time of the drive's motor. Using the E-Green software, you can track the amount of power your optical drive has saved since you installed it.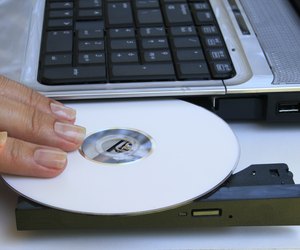 credit: Elena Koulik-Vargas/iStock/Getty Images
About E-Green
When you insert a disc in a typical optical drive and read its data, the drive may continue spinning the disc at a low speed for several minutes before stopping the drive's motor after the read operation is complete. An E-Green drive stops spinning the disc much sooner. In addition, E-Green reduces the power consumption of an optical drive's standby mode by terminating unneeded background applications when no disc is present.
Power Saving
ASUS claims that E-Green technology drastically reduces an optical drive's overall power consumption, particularly when the drive connects to the computer using the older parallel ATA technology. According to ASUS, E-Green lowers the power consumption of DVD drives by over 50 percent.
Software Features
ASUS E-Green software is available from the ASUS support website for specific disc drives, including those on Windows 8 computers. When you install the E-Green software, it places an icon in the system tray allowing you to see the optical drive's power saving totals. If you have more than one E-Green drive installed, click the drop-down menu in the upper-right corner of the window to see the totals for a different drive. The top portion of the window displays the total power the selected drive has saved as well as its contribution to the reduction of carbon dioxide emissions. The bottom portion displays the totals for all installed E-Green drives. Under the drop-down menu is a graphic of a tree that grows as your power savings accumulate.
Downloading the Software
The E-Green software is available from the ASUS support website (support.asus.com), depending on the hardware you have. Click the "Download" link and type the model number of your optical drive to locate the software. The E-Green software is compatible with a limited number of ASUS optical drives including the BW-12B1ST, BC-12B1ST and BR-04B2T Blu-ray drives and the DRW-24D1ST, DVD-E818A7TG and DVD-E818A3 DVD drives. In order to download the E-Green Utility, select your operating system as well as the product model number.