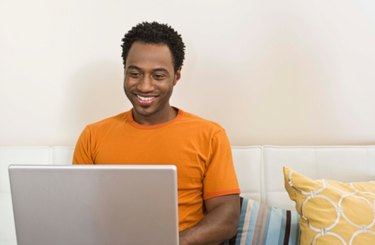 Craigslist offers website members a marketplace to advertise, sell and trade products and services. The website also lists job ads, personal ads and announcements. If you want to respond to one of these ads, email the person who posted the ad. Craigslist users can opt to use a randomly generated email address created by the website to maintain privacy or post their personal email address within the ad text. Replaying to a Craigslist ad via email starts by visiting the company's website -- not your email account.
Step 1
Click on the "My Account" link on the left side the Craigslist website homepage.
Step 2
Log in by typing your email address or Craigslist handle and password into the corresponding text boxes.
Step 3
Click on the gray "Log In" box.
Step 4
Click on the "Craigslist" link on the top, left corner of the screen to go to the homepage.
Step 5
Scroll with your mouse to locate the category containing the ad to respond to. Click on the linked-text name of the category.
Step 6
Scroll through the ads. Click on the underlined linked text of the ad you wish to reply to.
Step 7
Click on the reply-to email address listed under the ad title and date. The email should start with a word, such as "sale" followed by a series of letters, numbers and finish with "@craigslist.org."
Step 8
Log in to your email service provider's homepage. Craigslist will automatically fill out the "To:" and "Subject:" fields in the email.
Step 9
Write an e-mail message regarding the Craigslist posting. Press "Send" to send your email. Wait for a reply to your email.
Step 10
Respond to the e-mail by choosing the "Reply" option in your email service. When replying, the Craigslist advertiser will see your e-mail address -- not a randomly generated email provided by Craigslist.
Tip
After responding to an e-mail on Craigslist regarding a sales transaction, plan to meet the seller at a public location, such as a mall parking lot. Never invite a stranger into your home or work location to complete a transaction.
Warning
Do not respond to email responses from Craigslist users that ask for personal details such as a credit card number, bank account information or PayPal log in passwords. Report any fraudulent or suspicious transactions to Craigslist staff by clicking on the "Help, FAQ, Abuse, Legal" link on the website's homepage. Then choose the "Contact Us" link under the "General Help" heading.