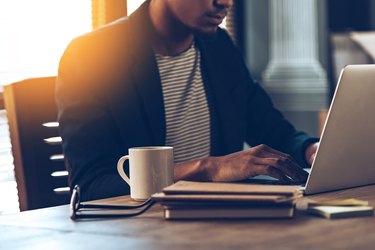 Craigslist devotes a section of its site to personal ads, which allow lonely singles to connect with other local users. To reply to these posts, you need to confirm that you are indeed human by verifying a special code. This is meant to filter out spam-bots that frequent Craigslist. After you confirm this, you likely will be presented with an anonymous email address, which Craigslist automatically forwards to the poster's email address.
Step 1
Go to Craigslist.com and browse the personals.
Step 2
Click "Reply to This Post" at the top of the personal ad to which you wish to respond.
Step 3
Type the graphically displayed text in the field provided and click "Reply." This gives you the poster's email address -- either his real one or, more likely, an anonymous one. It doesn't matter which it is, because both will reach the original poster.
Step 4
Click the email address to open a composition window in your default email program. If you are using an online email service, click and drag your mouse across the email address to select it. Hold the "Ctrl" key and press "C" to copy the text. Open a new composition window and click the "To" field. Hold the "Ctrl" key and press "V" to paste the address.
Step 5
Compose your email. Be courteous, polite and funny. You will be competing with other people responding to the ad, so make your reply stand out.
Step 6
Click "Send" to send the email.