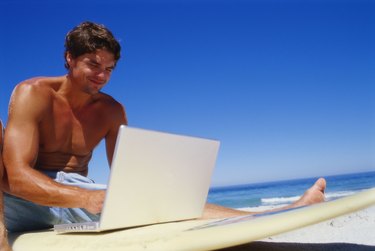 Sometimes, personalized computer desktop backgrounds and appearances are accidentally altered, and there is no obvious way to restore them. Luckily, there is a quick and easy way to get your desktop background back.
Step 1
Open the Control Panel. Click on the "Start" menu and from it select "Control Panel."
Step 2
Click "Appearance and Personalization" in the main Control Panel window, and then select the "Change Desktop Background" option, located under "Personalization."
Step 3
Click the Browse option, to the right of the "Location" drop-down bar, at the top of the screen. In the resulting dialogue box, select the previous desktop background image file from your hard drive. If the desktop background you want to restore is a preinstalled image, instead of clicking "Browse," click on the "Location" drop-down bar, and select Windows Wallpapers. Scroll through window below the drop-down menu to find the wallpaper you want.
Step 4
Set the size option for the desktop background. Click the radio button to the left of the image size you want for your desktop background.
Step 5
Click OK to restore the background to the desktop.
Tip
If more technical actions need to be taken to restore your desktop background, see the resources listed below for assistance. The System Restore process may assist you with reverting your computer to an earlier date when the background was active on the desktop.
Warning
If you a trying the restore a background that you found online, you will have to go back to its initial location if it is not stored on your computer. There is no simple way to restore what isn't saved to the hard drive.