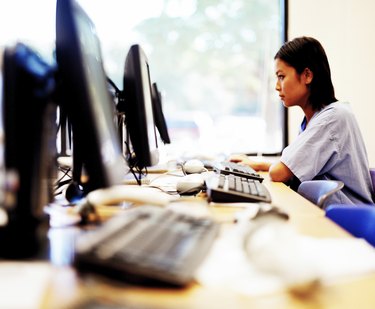 Windows 8.1 gives you the option of using System Restore to roll your computer back to a previous point, which can be useful if your computer is having problems after you've installed a new driver or app. Using this process restores your system files and removes the programs or drivers you installed, but it doesn't delete personal files such as documents; the process is reversible as well. You must have System Restore activated on your computer and have a restore point available to use.
Step 1
Type "System Restore" at the Windows Start screen and then select "Recovery" in the search results.
Step 2
Click "Open System Restore" on the Advanced Recovery Tools window. If Windows asks for an administrative password or confirmation to proceed, enter your password or confirm to continue.
Step 3
Click "Next" to view a list of restore points from which you can choose. Each point has a date, description and indication of whether it was manually or automatically created. To check which programs and drivers will be affected by using a specific restore point, highlight the restore point and click "Scan for Affected Programs." Click "Close" after you view the lists of items that will deleted and old items that may be restored.
Step 4
Select the restore point you want to use for rolling back your computer and click "Next."
Step 5
Click "Finish" and "Yes" to begin the System Restore process. Windows will restart, automatically roll back your computer to the selected restore point and then restart again. After it restarts the final time, Windows shows a message letting you know if the System Restore was successful.