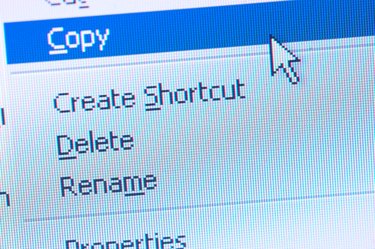 The taskbar is a useful piece of the Windows operating system. In addition to displaying all running windows, the taskbar also displays the system tray, showing background running applications, on the right side, and the Quick Launch bar, containing shortcuts to commonly used programs, on the left side. The taskbar is integral to your user experience in Windows, and it's more customizable than some realize. Besides changing the color and font size, you can also customize the taskbar's location to your liking, moving the it to any of the four sides of your display.
Step 1
Align your mouse cursor to the top of the taskbar, and see if the cursor becomes a double-arrow. If so, and you can drag the top of the taskbar to different heights, your taskbar is already unlocked. If not, you'll need to unlock the taskbar in order to rotate it.
Step 2
Right-click on the taskbar, and click to uncheck "Lock the Taskbar" from the menu that pops up. It is necessary to unlock the taskbar any time you wish to rotate it or alter its contents.
Step 3
Click, and hold the mouse button down, anywhere in the taskbar's empty space, and then drag the mouse to any edge of the screen. The taskbar will stick when you release the mouse button.
Step 4
Lock the taskbar to prevent any further modification or unintentional movement of the taskbar. If you want to move the taskbar again, or modify its settings, simply unlock the taskbar and proceed.