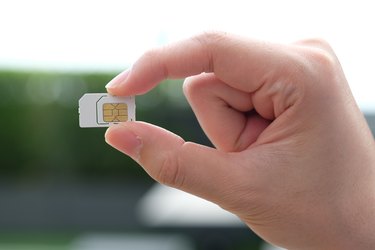 Though it may look a little like an SD card, your phone's Subscriber Identity Module (SIM) card isn't really about photo storage. Think of the SIM as your personal smart phone ID card – the small amount of info it stores includes your phone number and contacts and allows you to connect to mobile networks. While photo management isn't an option because SIM cards max out in the kilobyte range while photos are usually at least a few megabytes, you have a few related options for putting that SIM to good use.
Save Your Number and Contacts
With the advent of cloud-storage options like iCloud Contacts for iOS and Google Contacts for Android users, saving your phone's contacts to a SIM card isn't a necessity anymore, but it is still an option.
As long as the smart phone you want to switch to has the same size SIM card as your old phone, you can transfer your phone number and any contacts saved to the SIM by performing a SIM card transfer. All you have to do is power down both devices, remove the SIM card from the old phone's slot – often, you'll find a small, depressed eject button that you can press with a paperclip – and then insert it into the new phone's SIM slot and power it up. On an iPhone, you may also have to access "Settings," tap "Contacts" and choose "Import SIM Contacts" to complete the process.
Instant contacts, instant service. No need to text anyone "New phone, who dis?"
SIM App Options
Although saving pictures isn't in the picture, you can exercise a little more control over your SIM card with the power of free apps.
On Android, apps such as Copy to SIM Card allow you to copy and export contacts stored on your device to your SIM card, as well as manage the SIM card by erasing contacts or resetting the card. On an iPhone, SIM card management is made possible by apps such as MoreCard, which performs similar functions while offering features that let you customize call settings for each of your SIM card contacts.
Android: Save Pictures From Phone
If you're the type of person who dreams of a world where you can save photos to a SIM card, you're probably not too big on saving pics to the cloud or taking up precious device memory on your phone. Good news: If your Android phone has an SD card, you can save photos and videos directly to it.
Open your phone's native "Camera" app, open its settings menu and choose the "Storage location" option. Make sure the location is set to "Memory card" rather than "Device," and your photos will always go there rather than beaming up to the cloud. Not quite your SIM card, but it's a much more robust option with tons more storage space – even a 32GB SD card can save thousands of photos, compared to the less-than-one-picture capacity of a SIM card.