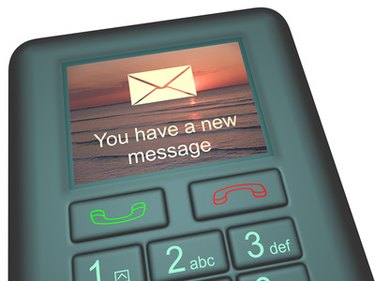 The popularity and convenience of camera phone technology has made sharing snapshots of everyday life and once-in-a-lifetime events as simple as sending a text message. Picture messages can be preserved by transferring them to a computer. They won't be lost in case of phone damage or theft, moving them frees up valuable phone memory and they will be less prone to accidental deletion. In addition, they will be more easily recovered in case of such an occurrence.
Step 1
Open the photo message you would like to transfer and select "Forward" from the option menu. Some phones may include a "Forward to Email" option; if so, select this.
Step 2
Enter your email address in the recipient field and send the message.
Step 3
Log into your email account and locate the forwarded photo message. It may take several minutes, or occasionally longer, for the email to arrive or appear in your inbox.
Step 4
Click on the download link to save the photo to your computer. If there is no download link, right-click on the image and select "Save Image As" to rename the file and save it to your desktop or a designated folder.