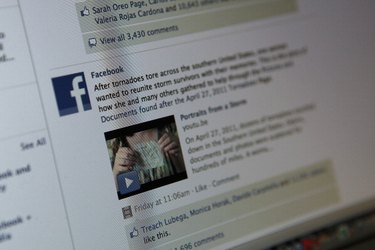 If you do not want to share a photo with all of your Facebook friends, you can send the photo to just one person. Facebook's messaging system allows you to share media such as photos and videos with select people without displaying the media to others. When you send a photo to a Facebook friend, the friend can download and save the image to their computer. You can send one image at a time through Facebook's messaging system.
Step 1
Open a Web browser and access the Facebook site. Log in with your email address and password.
Step 2
Click "Messages" in the side panel and select "New Message."
Step 3
Type the recipient's name in the "To" field and enter a subject for the message in the indicated field.
Step 4
Click the "Photo" icon next to "Attach," and then click "Upload a Photo." If you want to take a picture with your webcam to send, click "Take a Photo" and select "Allow" to take the picture.
Step 5
Click "Send" and the photo is sent to the Facebook recipient.