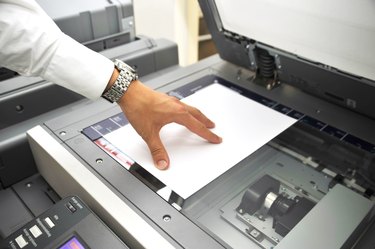 When you need to email or transmit content with a high degree of image clarity, a simple photograph from your cellphone may not do the trick. Scanners provide an easy way to capture high-resolution images of documents, photographs, and other forms of media in an easily transmittable digital format. Although using a scanner may seem somewhat intimidating at first glance, these devices operate similarly to standard copy machines. With that in mind, you can master the fundamentals of a scanner and learn how to scan a document without much effort.
The Basics of Scanning
When you are ready to begin scanning, the first step is to align the document on the surface of the scanner properly. Place the document face down on the scanning surface, so the scanner can properly analyze it. Typically, orientation marks are placed on the sides of the scanning surface. Use these marks to position the item you are scanning with the appropriate orientation relative to the scanner. Depending on the size of the document, you may need to rotate or reconfigure its position to properly fit these requirements. When your document is properly positioned, you are ready to begin scanning.
Connecting Your Scanner to the Computer
Your scanner may use a USB connection or a wireless connection to transmit data to your computer. If you are using a scanner in a public place, such as a library, you don't usually connect the scanner to your personal computer, but instead, you use onboard functions to email the scanned document to yourself or others. If you are connecting a scanner to your personal computer, you may need a software interface to interact with the hardware. Consult the website of the scanner you own to find any software or device drivers needed to run your hardware. If you are using an all-in-one printer that has scanning capabilities and have ever printed anything to that printer, you already have the connection you need to make a scan. Check the printer's documentation to see exactly how to capture the scan.
Learning How to Scan
When the scanner is active, and your document is aligned, you are ready to begin the scan. Typically, a scanner creates a low-resolution draft image on its first scan attempt of your document. This allows you to immediately confirm the draft and give the scanner permission to make the final copy or to tweak various parameters, such as contrast or resolution to refine the scan. Whatever you choose to do, the scanning process is often as simple as pressing "Scan" on your software interface or scanner. When you have finished the scan, the final image is stored on your computer, available to be emailed or transferred to a USB portable drive.