LG Android smartphones are capable of scanning two-dimensional barcodes called Quick Response codes. While phones like the Ally, Optimus or Revolution don't come preloaded with the necessary program to scan QR code, you can download one in a few easy steps. Numerous scanner applications are available in the Android Market, and many are free of charge. You'll then be able to use your phone's camera to scan codes, and the application will decode the information the code contains.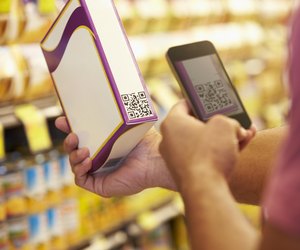 credit: Mark Bowden/iStock/Getty Images
Install a Scanner Application
Step
Touch the "Applications" launcher icon on your home screen to open your full menu. Touch the "Market" icon. The Android Market will open.
Step
Touch the magnifying glass icon, located in the upper right corner of the screen. A search box will open. Type "barcode scanner" into the search box. A list of available applications will display just below the search box, arranged in order of popularity.
Step
Touch an application from the list to read more details and reviews. When you are ready to download, touch "Download."
Step
Review the application permissions, then touch "Accept and Download." Installation will begin. Touch the "Home" button to return to the home screen while your scanner application installs in the background.
Using the Application
Step
Touch the "Applications" icon to open your full list of applications. Scroll through the list until you find the icon for the scanner application you previously installed. Touch the icon to open the scanner application.
Step
Touch the "Scan from Camera" option to scan a QR code. Your LG's camera will launch.
Step
Point the camera at the QR code you wish to scan, centering it in the box you see on the screen. Once centered, the camera will capture the code.
Step
Touch "Open" to view the contents of the code.