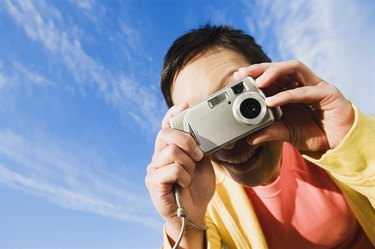 Hewlett-Packard's scanning software, Photosmart Essential, allows you to scan, edit, print and email photographs. The software comes with HP scanners and is available as a free download from the HP website. Scanning with the software is simple, as it walks you through the process in a few simple steps.
Step 1
Start the computer and the scanner by pressing the power buttons.
Step 2
Open the scanner and place the photo facedown on the bed. Close the scanner.
Step 3
Click "Start" on the desktop task bar. Click "Programs" and then "HP Solution Center." Alternately, you can double-click the HP Solution Center icon if it's on your desktop.
Step 4
Click "Show Preview" in the dialog box that opens.
Step 5
Click the "Scan" button, which is the icon that looks like a small scanner. The preview scan will begin.
Step 6
Check the preview and make any adjustments to the positioning of the photograph on the scanner bed. The Photosmart software automatically adjusts the photograph's color. Click "Accept" to begin the final scan.
Step 7
Click "No" when the scan is finished to save the photo and exit the program. Click "Yes" to continue scanning. The HP Photosmart program automatically saves the scanned photograph to a folder titled "My Scans" that is located in the "My Documents" folder.
Step 8
Remove the photograph from the scanner when scanning is complete.