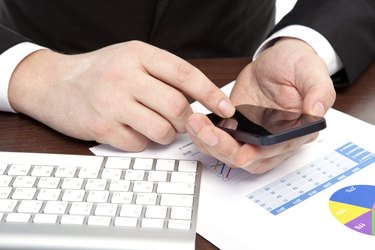 Using one of a few possible smartphone apps, you can convert pictures you take of documents on your smartphone directly to a PDF. This way, you do not have to search for a scanner if you need to put a physical signature on a document before sending it back to someone. Some of the apps are free for a trial period; some are free if you are willing to tolerate watermarks on the document or advertisements on the app screen when you're using it. CamScanner, DocSanner and Google Drive have versions for iOS, Android and Windows Phone. There are many other alternative apps, which may work only on one of those platforms, but will produce similar results.
CamScanner
Launch CamScanner, scroll through any startup screens and tap "Use Now." Tap the camera icon to get into camera mode and tap the camera icon again to take a picture of the document. Tap the check mark if you are satisfied with your picture. Use your finger to drag the borders around the picture to best fit your page. Tap the check mark icon on the bottom right again when you are finished. CamScanner will then crop and apply a contrast filter to the picture to help make it best for a PDF. Tap the check mark icon again to finish. Tap the camera icon again to add more pages to this document or tap the Share icon to send it via email, text message or some other means.
DocScanner
Launch DocScanner and tap the camera icon to get into camera mode. By default DocScanner may have the "Auto detect" mode enabled, which is meant to automatically detect the borders of your document. If this is not working for your particular document, tap the gear icon to open the settings menu. Tap the disable auto crop icon to turn off this setting. Tap the settings icon again to return to camera mode. The document appears inside the icon at the bottom right. Tap the page and you will see the gallery of documents. Tap your document, then tap the Share icon, which is in the top right corner. Tap "PDF," then tap "Choose application" to choose which method you want to use to send your document from your phone.
Google Drive
If you do not have a Google account, go to Google.com and sign up for a free account, then download the Google Drive app to your phone. Launch the Google Drive app and enter your account information as required. On the main My Drive screen, tap the camera icon on the bottom right. Tap the button to take the picture of your document. Tap the "+" icon to add more pages or tap the check mark icon to finish. Your document is converted to a PDF and automatically saved to your Google Drive account if you are connected to Wi-Fi. From Google Drive you are able to send your file via email.
Send the Picture to Your Computer
If the other options are not suitable for you, you can simply take a picture of your document and then transfer that picture to your computer. Both Windows and Apple computers have the ability to save files as a PDF. Once the picture is on your computer, open either Microsoft Word or Apple Pages and insert your picture into a document. The Print menu on either program will then allow you to save your file as a PDF.