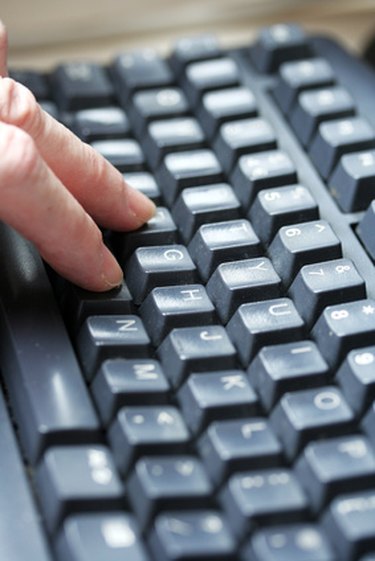 Hotkeys on a computer keyboard can help you to type and work more efficiently with less effort. Hotkeys are keys that provide a shortcut for getting a task done. For instance, pressing the "control," "alt" and "delete" buttons simultaneously will bring up your "Task Manager." Similarly, pressing certain hotkeys allows you to copy and paste, simply by pressing "control" and "C" or "control" and "V," depending upon your computer. Although most computers come with basic hotkey setups, it is possible to install more advanced hotkey applications.
Step 1
Purchase software that will add hotkeys to your computer. Installing certain hotkey software into your computer will give you more advanced hotkey options, such as controlling the volume of your computer with a button or activating cleanup functions. Visit your local electronics store to purchase the software and follow the installation instructions. Some programs will also allow you to download free trials of their hotkey software when you visit their websites.
Step 2
Visit the website for the type of computer you own. Some computer companies will offer hotkey software for free or for purchase on their site. Once you visit the site, look for a "downloads" page and you will likely find what you need. Most sites have you follow a simple prompt and are thorough in their application instructions, although they all use a similar format. You will most likely have to enter what type of computer you have, list the type of operating system your computer runs on and select the hotkeys program you wish to install. You will then likely click on a "download now" option and once it has finished, you will save the program.
Step 3
Visit a website that offers a hotkeys program. A variety of hotkeys software is available, and each offers its own hotkey options, such as pressing a key to open your Internet. Decide which hotkeys would be more advantageous for you to use when choosing a program. Follow the prompt on the screen for downloading instructions.