Apple's MacBook comes equipped with an LCD display that many users will find perfectly suitable for most applications. However, should you wish to attach a second monitor to the device for presentations or for a larger viewing area, the MacBook comes equipped with a video-out port. By default, when an external monitor is attached to the MacBook, it extends the desktop area; you can move your mouse and work freely between the two monitors. To change this behavior such that actions performed on the main display are mirrored on the external monitor, you must adjust the display settings located in the computer's System Preferences window.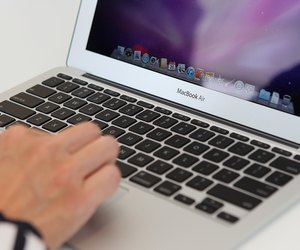 credit: Justin Sullivan/Getty Images News/Getty Images
Step
Locate a video-out port on the side of your MacBook. The available ports will depend on your MacBook's model. For example, a MacBook Air has a Thunderbolt port, while a MacBook Pro with Retina display has two Thunderbolt 2 ports and an HDMI port.
Step
Examine the video port on the external display, and then use the appropriate cable or adapter to connect your MacBook to the display. For example, if your display has a DVI port and your MacBook has a Thunderbolt port, use a Mini DisplayPort to DVI Adapter to connect the two devices. In this example, connect the Mini DisplayPort end of the adapter to your MacBook's Thunderbolt port, and then connect the other end to the display's DVI port.
Step
Open the "Apple" menu, and then select "System Preferences."
Step
Click the "Displays" icon, and then select the "Arrangements" tab.
Step
Click the "Mirror Displays" check box in the lower left corner of the window.
Step
Click the red button in the upper left corner to close the window.