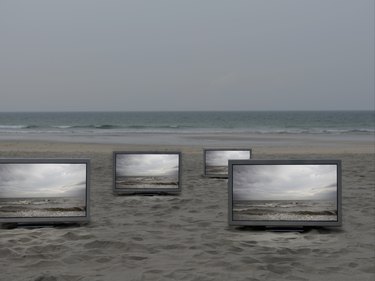 Your Dish Network satellite receiver needs to know which channel you want it to feed the picture through to your TV. Just like the old days when you hooked up your VCR to your television set and told it to play the videos on Channel 3, you must set your Dish Network dual tuner receiver's modulated output channel for your secondary TV.
Step 1
Pull up the menu for the satellite receiver by pressing the "MENU" button. Your remote needs to be in "SAT" mode in order to do this.
Step 2
Select "System Setup" out of the main menu. This is option number "6."
Step 3
Select "Installation," or press "1" on your remote control.
Step 4
Select "Modulator Setup" (number "5").
Step 5
Go to the TV2 section using the remote control navigation buttons. Choose either "Cable" or "Air" depending on the function set on your secondary TV. Cable will default to modulated output channel 73 and air will default to channel 60. You can change either of these if you need to, but that shouldn't be necessary.
Step 6
Select "Done" and you are finished. Barring no other issues, you should now be able to tune your TV to the selected channel and view Satellite programming on your secondary television.