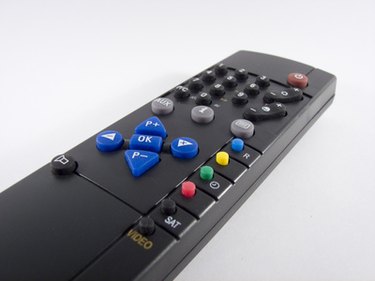 An infrared repeater, also known as an IR blaster, is a device that allows an infrared remote to control a tertiary device. Some models simply extend a remote's function with its own companion device, allowing it to be used across long distances or through walls. The setup of these devices is easy; configuring the primary devices (DVRs or computer-based TV tuners) is usually much more involved. The setup process will vary depending upon what device you're using the IR blaster with.
DVR Setup
Step 1
Plug your DVR into the same AC power outlet or surge protector as your TV and cable/satellite receiver. Place the DVR next to the receiver, not above or below it.
Step 2
Plug the IR blaster into the back of the DVR. Place the infrared transmitter--the plastic piece at the end of the cable--in front of the DVR's infrared receiver. Some IR blasters use two separate transmitters placed above and below the DVR.
Step 3
Turn on your TV, receiver and DVR. Follow the setup instructions on your DVR to program your remote.
TV Tuner Card Setup
Step 1
Place your home theater PC near your satellite/cable receiver and TV. Plug the IR receiver and the blaster into your computer's tuner card.
Step 2
Position the IR receiver where your remote control can access it via line of sight. Place the blaster in front of your TV and receiver.
Step 3
Turn on your TV, computer and receiver. Launch the media center or tuner program on your computer to configure your remote.
Extended IR Setup
Step 1
Place the infrared receiver where your remote can access it via line of sight. A good spot in on top of your television, in your entertainment center, or on a satellite speaker. Plug the receiver into an AC wall outlet or surge protector.
Step 2
Place the infrared blaster directly in front of your AV equipment. If you are controlling multiple set-top boxes (like a DVD/Blu-ray player and a cable box) place it about 8 inches away from all devices' IR receivers.
Step 3
Use your remote to control your devices. Depending upon where you placed the receiver, you may need to point the remote in a direction other than directly at your TV.