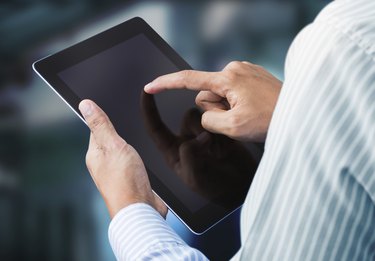 Although Microsoft designed Windows 8 with tablet PCs in mind, it's not the only operating system in the OS family to support pen and touch input. Windows 7 also includes support for touch screens -- just as long as your system includes the necessary hardware. For the best performance, you should calibrate your screen for pen or touch immediately after setting up the PC for the first time, or any time you reinstall the operating system. You can configure your tablet PC from the Control Panel.
Step 1
Click "Start," then "Control Panel." Select "Small Icons" from the "View by" menu in the top right and then choose "Tablet PC Settings" from the options.
Step 2
Click "Calibrate" under Display Options on the Display tab and then click "Yes" to confirm.
Step 3
Choose "Pen Input" or "Touch Input" when the prompt appears asking you which type of input you want to calibrate.
Step 4
Follow the instructions to calibrate your screen and then click "Yes" when the message "Do You Want to Save the Calibration Data?" appears. Click "OK" to confirm.