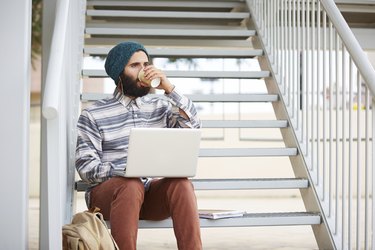 Gmail users may have little use for desktop email clients. Why use a program to look at email when Gmail has so many useful features? That's why it can be annoying to accidentally click an email address and have Outlook Express pop up and ask you to set up the service. Far better for these links to bring up Gmail, right? Happily Google provides the software necessary to make this happen, and it's easy to use.
Step 1
Download and install Google's "Gmail Notifier" (see "Resources). This program is useful beyond just making Gmail the default email application; it also pops up when you have new emails, the same way email clients such as Thunderbird or Outlook do.
Step 2
Right-click the new notifier icon in your tray (it should look like the Gmail logo) and click "Options."
Step 3
Find the box that says "Use Gmail for Internet mailto: links." Click OK, and all email address links will open a compose window in your web browser.
Step 4
Set Gmail as the default in your operating's settings as well, if you wish. In Windows, open Internet Explorer. Click "Tools," then "Internet Options," then the "Programs" tab. They'll be a drop down menu here where you can select whatever program you want as your default email client; pick Gmail Notifier. On a Mac, click "Applications," then "Mail," then "Preferences," then "Default Email Reader," and select "Gmail notifier."