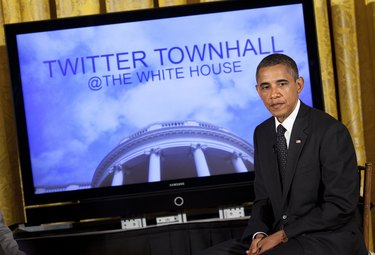 Twitter allows you to use just 140 text characters when sending a Tweet to your followers. If you want to share a website URL with your friends through Twitter, a URL shortening service is vital to reduce the size of the URL so you still have room to add your own comments. TweetDeck is an application that allows you to send Tweets from your own computer. Select a URL shortening service and enable automatic URL shortening in TweetDeck to minimize the length of URLs that you attach to your Tweets.
Step 1
Start the TweetDeck application on your computer using the desktop or Start menu shortcut. The application signs in to your Twitter account automatically if you have added your account information. If you have not added your account, click the "Add Twitter" button and type your Twitter user name and password.
Step 2
Click the "Auto URL Shortening" button -- shaped like a chain -- under the text field at the top of the window. When you hover the mouse pointer over the button, a pop-up window should say "Auto URL Shortening = ON."
Step 3
Click the wrench-shaped button in the upper-right corner of the TweetDeck window. This opens the "TweetDeck Settings" menu.
Step 4
Click the "Services" tab on the left side of the window.
Step 5
Click the drop-down menu next to "Select the service you wish to use to shorten URLs," and select a URL shortening service such as "tinyurl" or "is.gd." If you select "bit.ly," you must sign up with the bit.ly service to obtain an API key. Other services do not require signup.
Step 6
Click the "Save Settings" button to return to the main TweetDeck window.
Step 7
Drag a URL to the field at the top of the TweetDeck window to add it to a Tweet. After adding the URL, press the Space Bar to shorten it. After a moment, a box at the top of the window displays the message "URL Shortening Complete."
Step 8
Click the "Send" button when you are ready to send the Tweet.