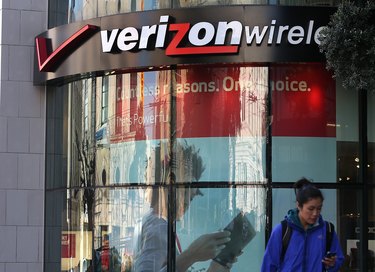 Whether you are a current customer or thinking about signing up for Verizon Wireless service, if you are a military member you can get military discounts. As of publication, Verizon Wireless sponsors a Military Discount program that offers a 15 percent discount to military personnel on plans and plan features. You can sign up for the discount on the Verizon Wireless website.
Visit the Verizon Wireless Website
Visit the Verizon Wireless Military and Veteran's Discount program website and click the "get started" link. If you are a current Verizon customer, log into your online account. If you are not a current customer, enter your military work email address to check your eligibility. You can also access your Verizon Account on your mobile phone or tablet to sign up for the discount.
Validate Your Employment
Validate your employment by entering your work or military address. If you don't have a work address, choose the pay stub option, enter your branch of service in the company name blank, and use your last known military address for the address blanks. The website will prompt you to upload a photo of a pay stub from the last 60 days if you are current military. Veterans can upload a photo of a Veterans Identification Card, Veterans Health Identification Card, Veterans Advantage Card, DD Form 214 or Military Retiree Account Statement. If you are on your smartphone or tablet, use your camera to upload the documentation.
Discount Rules
To qualify for the military discount, you must choose a voice or data plan with a monthly access fee of $34.99 or more. For shared plans, the fee that everyone shares must also be more than $34.99 to qualify. Features added to your account must be $24.99 a month or higher to receive the discount. The discount extends to all members on the plan even if they are not military members.