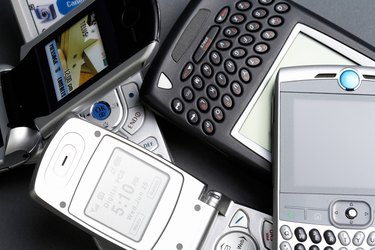 Cell phones are a luxury that not everyone can afford. To this end, Safelink Wireless, a U.S. Government-funded telecommunications company, provides free cell phones and complimentary service to families who live under the poverty line in several states around the the country. Customers aren't able to choose the type of phone they'd like; upon approval of their online application, the type and model of phone customers are sent is up to the discretion of the distributor.
About Safelink Wireless
Safelink Wireless is a program funded by the United States Government that offers free cell phone service for low-income residents of certain states within the U.S. As of 2011, Safelink Wireless is offered in Alabama, Arizona, Arkansas, Connecticut, the District of Columbia, Delaware, Florida, Georgia, Illinois, Kentucky, Louisiana, Maine, Maryland, Massachusetts, Michigan, Mississippi, Missouri, Nevada, New Hampshire, New Jersey, New York, North Carolina, Ohio, Pennsylvania, Puerto Rico, Rhode Island, South Carolina, Tennessee, Texas, Utah, Virginia, Washington, West Virginia and Wisconsin. According to their website, Safelink Wireless expects to be offered in additional states in the near future. Applicants who qualify for the program will receive a free cell phone with up to 250 free monthly minutes and other features.
About Tracfone
Safelink Wireless customers are issued cell phones through the Tracfone Wireless prepaid cell phone company. According to the Safelink Wireless website, Tracfone offers nationwide coverage, and their signals are carried on more than 30 towers of major cell phone companies across the country. Phones and prepaid airtime cards are available at more than 70,000 stores in the United States. If Safelink customers run out of free minutes, they can purchase an airtime card with their own money and add minutes to their Tracfone.
Tracfone Models
The company offers phones from several retailers, including Nokia, Motorola, LG and Kyocera. The type of phone Safelink Wireless customers are offered depends on where in the country they live and which minute plan they choose. The Safelink Wireless website reports that Tracfone offers a range of models from the Motorola C139 to the Motorola 376g.
To Apply
To apply for a Safelink Wireless phone, go to their website. You will need to input your name, address, phone number, email address, birthday and Social Security number. To qualify, you must be enrolled in a state or federally assisted low-income program, like food stamps or Medicaid, or live below the poverty line. You must live somewhere where you can receive mail from the United States Postal Service (the phone cannot be delivered to a post office box), and must live in a house where no one else receives Safelink Wireless service.