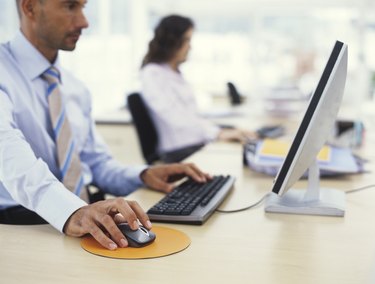 Cyclic Redundancy checks are used to confirm a file's integrity. You won't know if a RAR file is complete and error-free until you attempt to extract it, when the file is checked. The download is compared with the original CRC data which produces an error if the information does not match. Try downloading the file again and the error might disappear. Unfortunately, this solution only helps in cases of corrupt downloads. There are a few ways to fix RAR files when a redownload is not possible.
Passwords
Some extraction programs do not distinguish between an incorrect password or file corruption. WinRAR, for example, displays a "CRC Failed" error if you enter the wrong password. Type the password carefully and make sure "Caps Lock" is turned off. If you are sure the password is correct, download the latest version of the software and try again. If the file is truly corrupt, look for alternate copies of the same file online.
Alternatives
7-Zip, WinZip, RAR Expander and ExtractNow are all programs used to extract compressed files. They are compatible with many types of compression, including RAR, ZIP and TAR. Sometimes using a different program eliminates error messages encountered during the extraction process. For example, if you use WinZip to open a file and get a CRC error, opening that same file in 7-Zip might result in no issues at all.
WinRAR
WinRAR has a built-in function that lets you bypass CRC errors. During the normal process, the extracted file is deleted once the error occurs. Right-click the RAR and select "Extract Files..." to open the general options window. Under "Miscellaneous," put a check by "Keep Broken Files." The file saves to the folder you specify, despite the CRC data. Many files will not work using this method if they are too damaged, but some will.
Multi-Part Archives
These archives contain more than one RAR and all must be included for proper extraction. You should only have to click one of the files to open, but after it is done it will need the next part. The 3-digit extension at the end of the filename are numbered in order, with the last file being smaller in size than the rest. Keep all parts in the same folder when you extract or they won't be "seen" by the program.
Repair Tools
Repair tools scan archives and attempt to recover as much data as possible. They check the integrity of the file and fix bad CRC values. Many are capable of repairing large files, but some support archives only up to 4GB. Not every file is capable of being repaired, so try freeware or a demo before committing to a purchase.