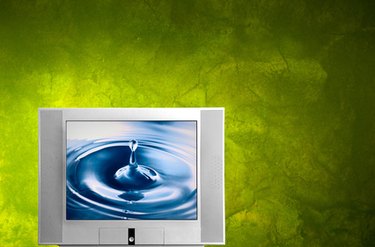 Occasionally, when attempting to watch programming on your digital television, you might encounter interference in the audio or picture. This ranges from viewing a ghost image of a different show over your current program or hearing a radio broadcast on the speakers. When this occurs, you need to troubleshoot the digital television in order to determine what is causing your digital TV interference.
Step 1
Look over the cable connection that brings the audio and video signal to the TV. If this cable is not inserted completely into the television, you might experience interference in the audio or video.
Step 2
Move any wireless-frequency device away from the television (especially when you use an antenna to receive the television programming signal). This includes radios and cell phones, as the TV might pick up signals from the other devices and begin producing the audio over its speaker system.
Step 3
Place metal objects away from the television. Metal can reflect television and other wireless signals that might cause audio or video interference on the television.
Step 4
Connect your TV antenna to an amplifier, then hook up the amplifier to the TV. If you are too far away from the television source signal and use an antenna to pick up the station, other wireless frequencies can interfere with the clarity of the signal. Connecting an amplifier to the antenna boosts the power of the antenna, helping block interference.