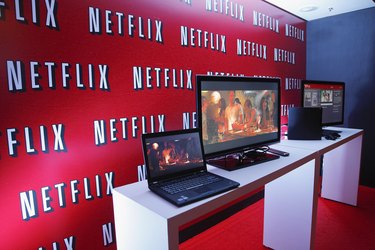 The Netflix streaming service requires a broadband Internet connection and a television or device that is capable of connecting to the Internet. However, as an AT&T U-Verse subscriber, you may have additional connection issues, and depending on the package you subscribe to, you may also have less bandwidth available for streaming -- though you can minimize this problem by setting up a default streaming speed.
Step 1
Access the Internet through your smart TV or a device such as Apple TV, Wii or Xbox.
Step 2
Search for the Netflix app, and then select it to download the app.
Step 3
Open the app, and then select "Yes" when it asks if you are already a member.
Step 4
Type your username and password in the appropriate fields, and then select "Enter." You are given an Activation Code; note it down.
Step 5
Log in to Netflix on your computer, and then go to the Activate Your Device page (see Resources).
Step 6
Type the Activation Code from Step 4 into the field, and then click "Activate." Your device links with your Netflix account.
Step 7
Go to the Manage Video Quality page while on your computer (see Resources).
Step 8
Select the quality that best reflects your bandwidth. If you have the Max Turbo or Max Plus packages, for example, opt for "Best" quality. If you have one of the slower packages, select "Better" or "Good" quality.
Step 9
Click "Update Preferences" to save your settings, return to your device or television, and then select a movie or show to watch.