Your iPhone notes typically reside within the Notes app or the Notes folder of an IMAP email account such as Yahoo, Gmail or AOL. By simply tweaking iCloud and IMAP account settings, you can instantaneously sync these iPhone notes with other devices, making your Notes app a one-stop repository for all notes. Private notes need a tad more effort to sync – simply copy them from the On My iPhone section of the Notes app to an iCloud or IMAP account.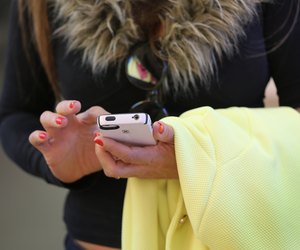 credit: John Moore/Getty Images News/Getty Images
Sync iCloud Notes
Step
Tap "Settings" on your iPhone.
Step
Tap "iCloud" and then toggle the "Notes" switch to the "On" position. This enables your device to push and receive iCloud notes over the air to and from other devices on the same iCloud account as the iPhone. (See link in Resources.)
Step
Activate the Notes option on your linked devices as well. Perform Step 2 on all iOS devices. On a Mac, check the "Notes" option in your iCloud system preferences. On a PC, check the "Mail, Contacts, Calendars & Tasks" option in your iCloud control panel. (See link in Resources.)
Step
Use the Notes apps on your iPhone, Mac or iOS devices to access and use your freshly synchronized iCloud notes. On a PC, open the Notes folder of your iCloud email account within Microsoft Outlook. Alternatively, use the Web browser of any device to access your notes at iCloud.com/#notes. Sign in using the Apple ID credentials you use with iCloud.
Sync IMAP Notes
Step
Tap "Settings" on your iPhone, then touch "Mail Contacts Calendars."
Step
Locate the email account that you typically use for notes. Tap it to view its settings.
Step
Toggle the "Notes" switch to "On" to enable notes syncing between the email account and your iPhone. Note that this removes the email account's Notes folder from within the Mail app. Use the Notes app instead to view, add, delete and modify the email account's notes going forward.