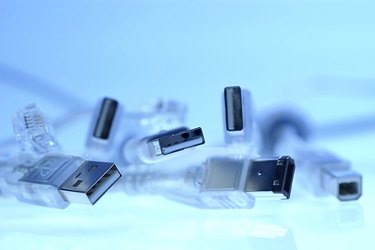 Apple's Mac laptops come with a power supply that allows you to charge the battery and also power the laptop from a wall outlet or power strip. Apple calls its power supply the "MagSafe" adapter due to the fact that the adapter connects to the laptop via magnets. Sometimes issues can arise in which the adapter power supply malfunctions or a loose connection prevents the laptop from charging. Test your adapter to determine whether the problem lies with the adapter or with the laptop itself.
Step 1
Connect the "Magsafe" end of the connector to the power supply port on the left side of the Mac laptop. Connect the two-pronged power supply to a wall outlet or power strip. The light on the "Magsafe" connector end should light up. If it does not, proceed to Step 2.
Step 2
Verify a secure connection. Gently pull out the Magsafe connector, then reconnect it to the laptop. Wait a few seconds for the status light to come on. If it does not, unplug the power supply and try another wall outlet or power strip outlet.
Step 3
Turn on the laptop. Once the Mac OS X desktop loads, click the "battery icon" in the upper right of the screen. Look for either "Battery is charged" or "Battery is charging" in the drop-down menu. If you see neither of these phrases, proceed to Step 4.
Step 4
Unplug the power supply again from the wall outlet or power strip. Verify that the "adapter" plug on the end remains securely in place. The Apple power adapter has a removable plug that allows you to connect the Apple power supply extension cable; check that the removable plug remains firmly in place.
Step 5
Reconnect the power supply plug to the outlet. If the status light still does not turn on or the "battery icon" does not indicate a fully charged battery or charging battery, proceed to Step 6.
Step 6
Unplug the "Magsafe" end of the adapter from the computer. Reconnect it to another Mac laptop. Note that some Apple adapters have different "Magsafe" plugs, including barrel-shaped, T-shaped and L-style plugs. Verify that your adapter matches the power supply port on the second Mac laptop before connecting. If the second laptop begins charging, the issue lies with the first laptop and the adapter is functioning properly. If the second laptop fails to begin charging, you'll need a replacement power adapter.