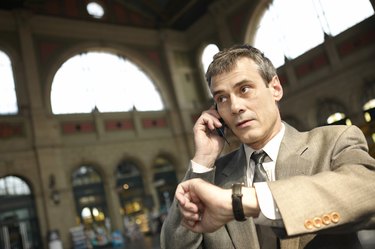 You might suspect that an employee is stealing secrets from your company, or maybe you think your husband or boyfriend is cheating on you. A simple way to find out the truth is by monitoring the incoming and outgoing calls on his cell phone. By using an inexpensive software tool it's easy to do even if you aren't a techno-geek.
Step 1
Purchase a cell phone spy software. The three main programs are Phone Stealth, Mobile Spy and FlexiSpy.
Step 2
Download and install the software. Each setup will be a little bit different, but they are basically the same. You will need to acquire the phone that you wish to monitor. Note that these programs usually only work on smart phones such as the iPhone, Treo or Blackberry. Open up a web browser on the phone and download the software to begin the installation process. You should have received an activation code when your purchased the program. Input this code and restart the phone.
Step 3
Set up and Configure the phone. Go to the menu and select which details you want to monitor. Depending on the software that you purchased you may be able to monitor both incoming and outgoing calls, GPS location and SMS messages. With FlexiSpy you can even set it up so the target phone will text message you any time there is a call made or received. That way you can eavesdrop on the conversation.
Step 4
Monitor the phone activities. Once the software is set up the target phone sends its activities at regular intervals to a password protected website. Just log into it from any computer or web-enabled phone and you'll get all the information you've selected.
Things You'll Need
Cell Phone Spy Software

Computer and Internet
Warning
Installing a spying device on another person's phone and monitoring his cell phone activity without his knowledge will be against the law in many circumstances. Consult your local laws, or an attorney, before employing one of these programs.