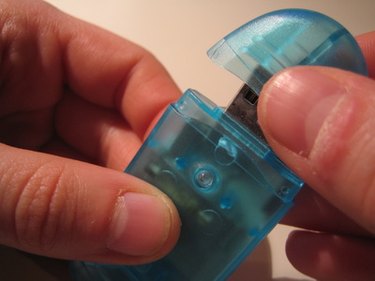 When using a media player such as iTunes or Windows Media Player, all of the music on your playlists are stored in a single music file on your computer. This gives you access to the files if you want to transport them to a different computer. If you are looking to do so, you can easily connect a USB flash drive to your computer and copy the files from your media player onto the removable device.
Step 1
Plug the USB flash drive into any available USB port on the computer.
Step 2
Click the "Start" button followed by "Computer" (or "My Computer" in older versions of Microsoft Windows). Double-click the removable device icon and a window loads, displaying the content saved in the flash drive. Leave this window open for the time being.
Step 3
Open "My Documents." Double-click your user file and select "My Music." Here you can find the folder holding all of the music on your media player. Usually the folder is named after the particular media player you use.
Step 4
Click-and-drag the folder into the open flash drive window. Wait for it to copy completely. Depending on the amount of music you have, this process can take several minutes to a few hours.
Step 5
Close out the removable device window. Right-click the icon and select "Eject" from the pull-down menu. You can now safely remove the flash drive from the computer.