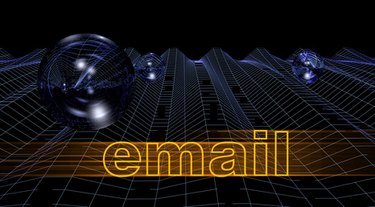 If you have the email addresses of hundreds or thousands of contacts, trying to retrieve them individually in the event of a tech meltdown can be frustrating and time-consuming. Transferring your contacts provides, among other benefits, a backup system for emergencies.
Step 1
Open "Contacts" in the address book of your email program. Most programs will open a separate window where you can control your saved emails.
Step 2
From your file menu, choose the option to save or export your contact list. Save your contact list file on your hard drive. The list can be configured in a number of file types, including CSV. Choose any type you like unless you know specifically a type that your program prefers you to use.
Step 3
Copy the file to a CD or flash drive and move the media to another computer. Copy the file to the new computer. Open the email program and address book and look for an option to import an address book or contact list. Import the file.