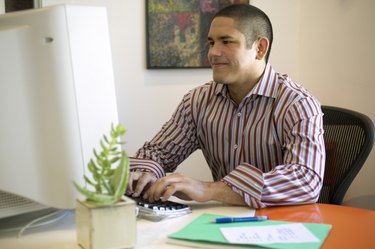 If you were a long-term loyal user of AOL, you have probably accumulated a long list of favorite sites that you use to browse through the Internet. Now that other Web browsers such as Internet Explorer have gained popularity, you might want to transfer your favorites from AOL to Internet Explorer so that you can continue to have easy access to them after switching browsers.
Step 1
Click the "Favorites" folder on your AOL access page.
Step 2
Click on the "Save / Replace" button. When the file browser window comes up, navigate to a directory of your choice, select "Save" and click "OK."
Step 3
Launch Internet Explorer.
Step 4
Click on the "File" drop-down menu at the top of the Internet Explorer screen, and select the "Import and Export" menu item.
Step 5
Select "Import from file" in the next window and click "Next."
Step 6
Check the "Favorites" box in the next window and click "Next."
Step 7
Click the "Browse" button in the next window and navigate to the directory in which you stored your AOL favorites file. Click on that file and click "Next."
Step 8
Select the destination folder for your AOL favorites using the file browser in the next window and click "Import."
Step 9
Click "Finish" on the next screen to dismiss the window after importing your favorites. Your AOL favorites will now show up on your "Favorites" list in Internet Explorer.