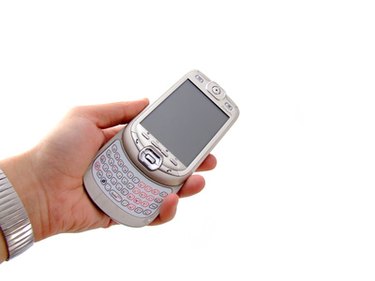 If you have a computer, it's possible you have iTunes, Apple's proprietary music manager and player. It's de rigueur for those with iPods and iPhones. However, for those who don't have the Apple equipment, their ability to carry iTunes music around is limited. Still, it's possible to transfer iTunes music to your MP3-playing smartphone, if you have a little time and the patience to take a few extra steps.
Step 1
Get your computer up and running. Plug it in, turn it on.
Step 2
Create a new folder on your desktop. In Windows, right-click the desktop and select "New" from the menu offered. Click on the "Folder" icon. On a Mac, click the desktop, then click the word "File," which should appear on a toolbar on the upper left side. Choose "New Folder" to create a folder. Name your folder.
Step 3
Locate your iTunes music. If your library is stored in a Windows computer, click your "Start" menu located in the lower left side of your desktop. Click on the user folder "Music," and it should open to a folder called "iTunes." It should open to another set of folders. Click the one called "iTunes music," and it should then open to display folders of you iTunes music.
If you are using a Mac, click the "Finder" icon, which is the blue happy face icon that should be docked on your desktop. A Finder window will open, and there will be a list on the left side. Click the "Home" icon. That will in turn open to reveal several folders. Click the "Music" folder, which will open to "iTunes." Open that folder, and then click on the subsequent "iTunes music" folder. Open that folder.
Step 4
Copy your chosen songs from your iTunes music folder to the folder you created.
Step 5
Convert your files, if necessary. Most phones will play only MP3s, which means if your music stored is not an MP3, your phone might not recognize it. To convert, open your file converter application. Typically it will ask you to drag and drop files into a field and select the format you want to convert to. Some songs are protected and can't be converted.
Step 6
Connect your phone to your computer using the cable. An interface program should open up, allowing you to explore your phone like it was an external storage disk. This varies by phone; you may have to go to your hard disk to locate the devices connected to your machine.
Step 7
Transfer the MP3s in your desktop folder to the appropriate folder in your phone. Again, the interface varies by phone, but it should be relatively straightforward where to put your music for playback.
Things You'll Need
Computer, with iTunes program and music files, as well as the program software for your smartphone installed.

File converter program, also installed (optional)

Smartphone

Cable that connects smartphone to computer (most likely USB)