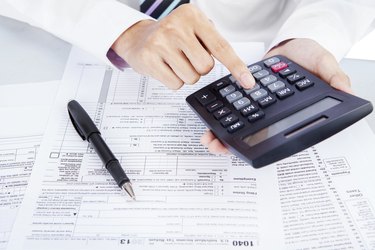 According to TurboTax's End User License Agreement, you can install the software on all computers you own. If you purchase a new computer, you are free to install your TurboTax software on it. However, note that you should transfer your tax returns to the second computer to avoid starting from scratch. TurboTax makes it easy for you to transfer these files; all you need is a USB flash drive or a CD. Avoid emailing the tax returns to yourself; email should not be used to transfer sensitive information.
Installing TurboTax
Step 1
Close all programs on the new computer. Intuit advises you to disable your firewall and anti-virus temporarily.
Step 2
Insert the TurboTax CD into the optical drive of the new computer and then click "Run setup.exe." If you downloaded your copy of TurboTax online, double-click the installer. Click "Next" and then click "I Agree" to agree to the End User License Agreement.
Step 3
Click the "Change" button and select a different folder if you want to install the software somewhere else. Uncheck the "Sure, count me in" box if you don't want to send anonymous performance reports to Intuit. Click "Install" to install the software. The process usually takes three to five minutes.
Transferring Your TurboTax Data
Step 1
Launch TurboTax on the old computer. Open your tax return, click "File" and choose "Save As" from the menu.
Step 2
Select the destination folder and type a name for the backup in the "File name" field. Click "Save" to export your tax return and then close TurboTax.
Step 3
Transfer the backup to the new computer. If the software is already installed on the second computer, double-clicking the file opens it in TurboTax so you can continue working on it.