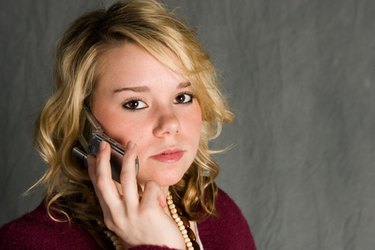 While cellphones are handy for keeping people connected while on the go, the absence of face-to-face contact means that call quality is important to ensure thoughts and ideas are exchanged clearly. When conversations become mired in crackling noises, this process is hindered and action is necessary. Thankfully, there are some steps to take to quickly resolve the issue.
Step 1
Power cycle your device. This is done by turning off the phone for 30 seconds and then powering it back up. For most models, the red end call key also serves as the power button. By holding it in for several seconds, the device will power down or up. Steps may vary from phone to phone so refer to your user manual for alternatives, if necessary. If the crackling noise persists, more intensive steps are necessary.
Step 2
Perform a master reset on your phone. This will reset your device's software back to factory standard. This normally fixes many minor software-related issues. To do this, press 'menu' at the home screen, followed by 'settings,' 'set up' and then 'master reset.' If prompted, enter the security code for your device. The phone will turn off when the reset is complete, then will automatically turn itself back on. Test whether the crackling is still present.
Step 3
Initiate a master clear on your device. This will erase all information on the phone and install a fresh version of the operating system. Do this by pressing 'menu' from the home screen, then selecting 'settings,' 'set up' and then 'master clear.' Enter the security code if needed and wait for the phone to power off and back on by itself. The crackling issue should now be resolved if the problem was a software glitch. If it persists, there is a hardware malfunction.
Step 4
Contact your service provider for repair or replacement options. The only resolution for internal hardware failures is to have your phone replaced by the carrier under warranty or repaired by the manufacturer. Your service provider will assist with this process.