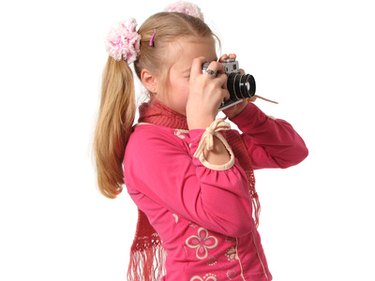 VTech is a children's electronic toy manufacturer that has produced a wide variety of children's educational toys, including the Kidizoom Camera. The Kidizoom Camera allows children to take and edit photos, record digital video and play several games. The camera provides easy-to-understand and easily accessed buttons that allow children to manage the camera's capabilities. If your child has a VTech Kidizoom Camera, there are a few techniques you can use to troubleshoot any problems experienced.
Step 1
Reset your VTech Kidizoom Camera. If the programs on your VTech Kidizoom Camera stop working, you can reset your camera in two different ways. Using the point of a paper clip, press in on the "Reset" button. If pressing the "Reset" button does not work, then you need to turn the camera off and remove the batteries. After leaving the batteries out of the camera for a few minutes, place the batteries back in the camera and hit the "Reset" button again with the paper clip. Turn the camera on. If the camera is still not working, replace all the batteries with brand new ones.
Step 2
Fix the LCD screen. If the LCD screen on the VTech Kidizoom Camera is not turning on, first make sure there are four AA batteries in the camera. Then, turn the camera on. If your camera is connected to your TV using the VTech Kidizoom Camera cable, remove the cable and attempt to turn the camera on again. If the camera still does not turn on, replace the batteries.
Step 3
Troubleshoot a TV viewing problem. The VTech Kidizoom Camera comes with a cable that allows you to connect the camera to your TV. If you have the camera connected to the TV but have no image, you should first check to make sure that your camera has fresh batteries and that the TV and VCR are both plugged in and turned on. Next, check to make sure that the cables running from the camera, TV and VCR are all securely connected. After that, double check to make sure that the cables are in the correct ports. Last, check to make sure that the TV is on the correct input setting.