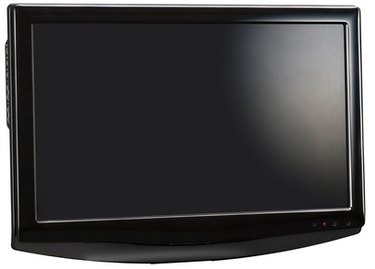 An RCA LCD TV employs a liquid crystal display to project images. RCA, currently owned by a French conglomerate, was founded in 1919. Its products are known world wide and are well trusted. However, as with most consumer electronic goods, glitches can and do occur. Usually, the problems are relatively simple to troubleshoot, whether it be an issue with the picture quality or the set turning off unexpectedly. Run through a few troubleshooting steps before calling a repairman.
Step 1
Check that the A/C power cord is securely plugged into the electrical outlet if the TV will not turn on. Test another appliance, such as a lamp, by plugging it into the same outlet to test for power. Check the home electrical panel for any blown fuses and tripped breaker. Reset any breakers. If the wire on the fuse is broken, replace it with another of the same amperage rating. Check the remote control batteries and replace them, if necessary. Ensure that the front panel is not locked, or deactivated. Select the "Front Panel Lock" in the "Parental" menu and press "Menu" to uncheck the locking status.
Step 2
Press "Input" to choose the right input source if there is no picture or sound but the TV is on and there is a "No Signal" sign on the screen. It could be that you are trying to use an input source with no device connected to it. Try switching to another channel, as the current one may be experiencing broadcast difficulties.
Step 3
Check that the video cables are secure and connected to the correct jacks if the sound is good but the picture is poor. For audio video input , the yellow video cable connects to the yellow video jack on the side of the TV. For component input, the three Y, Pb and Pr video cables (red, blue and green) should be connected to the corresponding input jacks on the side of the TV. Try adjusting the antenna connections. Adjust the color features to improve the picture.
Step 4
Wait 30 seconds to turn the TV back on if the unit turns off unexpectedly. This can happen sometimes due to a power surge.
Step 5
Turn off the TV and allow it to sit for a few hours before using it if condensation forms inside the unit. This can sometimes happen when there is a sudden change of temperature or when the unit has been sitting in the path of an air conditioner.