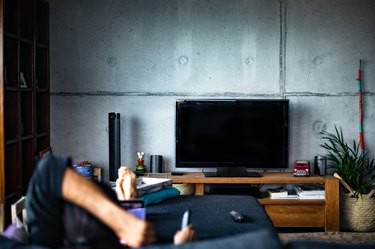 Sansui specializes in electronics, with a full line of large-screen TVs that meet consumer demand for affordability. As with any TV, though, a Sansui screen can eventually have issues, at which point you may begin frantically searching the user manual for information. You can get help for your Sansui TV, but first there are a few simple troubleshooting measures you can take, including checking power cords and connections between devices.
About Sansui TVs
Founded in 1947 in Tokyo, Sansui was originally a transformer manufacturer. But the company gradually evolved to specialize in both audio and video products. Sansui's peak in the U.S. market was in the 70s and 80s, but they remain in business as a specialist of competitively-priced TVs
Today, you can find Sansui TVs on sites like Amazon and Walmart.com, usually sold and shipped by third-party retailers. At one time, you could also buy computer monitors with the brand's name on them. The average Sansui monitor price was competitive, so you may be able to find a good deal on one on a reselling site like eBay.
Basic TV Troubleshooting
Although many issues will have you going straight to the Sansui user manual for help, there are some basic troubleshooting steps that can be applied to any TV. It all starts with cables and cords. Check every cord coming into your TV, as well as the devices on the other end. A frozen cable box or unplugged power cord is commonly the culprit behind problems with a TV.
If you have taken advantage of used Sansui monitor prices, you can apply the same basic troubleshooting techniques to it. Check the connection from your computer, as well as the computer itself. If you have another monitor, you can easily narrow down the issue by hooking it up to your computer and seeing if it works.
Troubleshooting Basic Sansui TV Issues
There are some simple issues specific to Sansui TVs that you can try before consulting the Sansui user manual. You should first understand the error light on the TV. If your TV won't power on, look for a flashing light. This means there's an issue with the power supply board that will likely have to be professionally repaired.
Before calling a technician, though, you can try one easy Sansui TV troubleshooting step and possibly save some money. First, unplug the TV, then press the power button and hold it for 10 seconds. Release the button and plug the TV back in, then press the power button once.
Common Sansui Problems
According to the Sansui user manual, there are a variety of picture issues you can have, with some common resolutions:
Poor/no picture – Try different stations. If multiple stations have the issue, check your connections and make sure your cable box or antenna isn't the issue. You should also check your picture control adjustments under the menu using your remote control. You'll can tweak the brightnesss, color, contrast, tint and sharpness.
Poor/no sound – After you've checked to make sure it isn't the station, you should make sure you haven't accidentally hit the "Mute" button.
In some cases, the issues related to your Sansui TV have nothing to do with the TV itself. If you use an antenna, you could have interference from devices like two-way radios, automobile ignition systems, neon lamps and other devices. However, if you have cable or satellite, you'll need to isolate whether the issue is with your service, that component or the TV itself.
Sansui Repairs and Support
It's important to make sure you have a warranty in place before you buy a Sansui monitor or TV. Sansui only warranties its products against manufacturing defects for one year from the date of purchase, so if you've bought a used one, you likely will have to pay a technician to fix it.
If you need repairs on your Sansui electronics, the company offers a list of service centers on its website at sansuiproducts.com/search-dir.html. These centers can conduct warranty repairs, but they also have the specialized expertise necessary to work on Sansui's products.