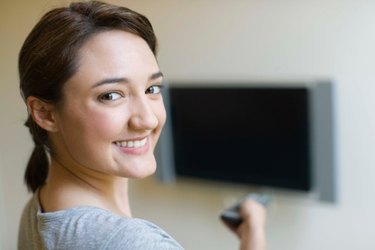 Bravia is the name that Sony uses to market its line of LCD HDTVs. An acronym for "Best Resolution Audio Visual Integrated Architecture," all Sony TVs sold since 2005 have carried the Bravia name. These sets include digital ATSC and QAM tuners for each television to receive digital and high definition over the air broadcasts.
Step 1
Connect your TV to your cable or antenna source with a coaxial cable line.
Step 2
Press the "Menu" button on your remote to bring up your TV's menu.
Step 3
Use the arrow keys on the remote to navigate through the menu and select the "Channel" tab.
Step 4
Select "Add Digital Channels" and select "OK" to confirm. All of the digital channels available in your area will be automatically tuned into the TV.
Tip
To check which digital channels are available in your area, refer to the FCC DTV reception map in the Resources section and input your address.