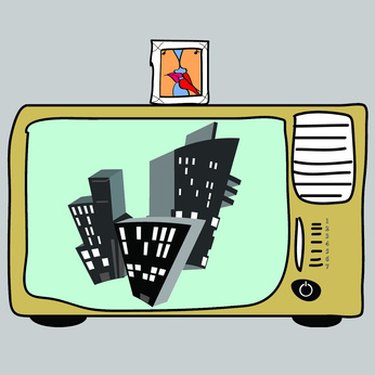 Picture in picture (PIP) functions on Panasonic televisions allow simultaneous viewing via split screen or in a smaller window. PIP operates using the built-in tuner or external device, and most Panasonic TV models allow any combination of the two. Performing PIP on/off and split screen operations are done via remote control. To maximize enjoyment of your television, understanding how to turn off PIP is equally as important as understanding general PIP operation.
Step 1
Examine the front of the Panasonic remote. Locate the "PIP" button, and press it to open the PIP window.
Step 2
Press the up and down arrow buttons to select a channel for PIP operation in the primary viewing window. Press the "SWA" button to flip between channel inputs.
Step 3
Press the "TV/VIDEO" button to switch between split-frame and normal PIP window settings.
Step 4
Press the "Search" button to open three searchable PIP windows on the right side of the screen. Press "PIP" or "SPLIT" to cancel this.
Step 5
Press the "PIP" button again to exit all picture in picture operations.