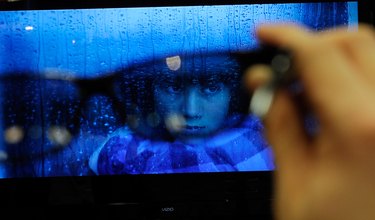 Vizio doesn't advertise or make it blatantly clear in the user's guide how to turn off the overscan feature on its television sets. Users of other TV brands may not know how to do this either, but the option is hidden under the screen aspect ratio setting. Even when you get to the screen aspect menu, it won't scream out "overscan" because TV brands hardly ever use this type of language to describe the feature.
Step 1
Press the power button at the top of the Vizio TV remote control. The television set turns on. Because the Vizio TV is essentially a computer with a large screen, it may take a few moments for the device to boot up.
Step 2
Click the "Menu" button. A sidebar menu appears on the left-hand side of the television screen.
Step 3
Press the up arrow on the remote control to highlight the "Wide" option on the menu. Press the center "OK" button on the remote's directional keypad.
Step 4
Use the left or right arrow keys to move to the "Wide." Press the "OK" button again to select this screen aspect viewing option. Wide mode is the only screen aspect option that turns off the overscan feature, which usually displays a set of black boxes on the top and bottom or right and left sides of a picture.