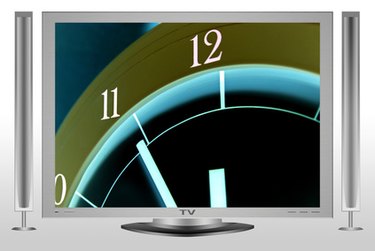 Insignia is an electronics brand exclusive to Best Buy and FutureStop stores, with products including flat-panel LCD televisions, Blu-ray players and home theater systems. Insignia's LCD TVs are designed to be competitive with the other manufacturers in terms of quality and price, with all the main features and options offered by larger brands such as Sony or Samsung. One of those features is the ability to display closed-captioning subtitles when available with the particular viewing source.
Step 1
Press the "CCD" button on the Insignia remote control; this is the fastest way to access the closed-caption settings. Press the button repeatedly to select one of the available captioning options, including turning them on or off.
Step 2
Press "Menu" and use the up or down arrow key to scroll down to "Feature" with certain models including the NS-LCD52HD-09, and press the right arrow key to enter that sub-menu. Select "Digital Caption" to choose a caption option when viewing with a digital source, or "Closed Caption Options" to change the various aspects of those digital captions, including size, font, background and color.
Step 3
Press "Menu" and use the "CH+" or CH-" key to scroll down to "Setup" with older models, including the IS-LCDTV32, and press "Enter" to enter that sub-menu. "CCD On/Off" will be highlighted; press "Enter" again to turn the captions on or off. Scroll down to highlight "CC Mode" and press "Enter" repeatedly to alternate between the various caption and text modes available. Scroll down further to highlight "CC When Mute" and press "Enter" to have the captioning come on only when you mute the sound.
Tip
Ensure that the captions are also enabled in your viewing source component, such as the cable or satellite set-top receiver box and DVD or Blu-ray player. Consult your owner's manual for further details on the features and options available with your particular model, and how to access them.