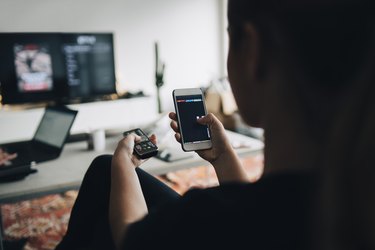 Picture-in-picture settings offer you more options for viewing content, so it's only fitting that there's more than one way to go about activating PIP on your Samsung TV. Picture-in-picture TV settings aren't quite as popular as they used to be, but they're still around in the era of 4K Ultra HD. Grab your remote from between the couch cushions and picture yourself putting a picture inside the picture of your Samsung HDTV.
Get PIP on Samsung TVs
Before you can get rolling with PIP on any modern model of Samsung, picture-in-picture must be set up on your TV. To view two different TV sources on your screen at once, you need to connect two different sources.
Your cable, satellite or set-top box likely connects to your TV via a coaxial connection – the type of cable with the pin at the end that screws on to the knob on the back of the TV. To pipe two different TV signals to your Samsung at once, you need a coaxial cable splitter, which is an inexpensive add-on. Screw the single end into the back of your TV with a coax cable and then connect multiple coax sources to the multiple RF inputs on the splitter.
You can also mix and match sources using a coax connection and TV signals or other devices (such as Blu-ray and DVD players or your PC) connected to your device via HDMI, composite, component or VGA inputs.
Since 2005, all of Samsung's TVs have only one built-in TV tuner, hence the need to hook up another TV source for PIP. Before 2005, any Samsung TV with PIP functionality already had two tuners built-in, so you can skip this step if you're working with an older model.
PIP for Older Models
Typically, on legacy LCD models like the 650 and 750 series from Samsung, you enable PIP by selecting the remote's "Menu" button and then selecting "Setup" and "PIP" while viewing the content you want to use as your main source. In this menu, "Off" and "On" activate or deactivate the PIP display, while "Air," "Cable" and "Channel" select the secondary source for the subscreen. You'll also see various options allowing you to choose the size and position of the subscreen. The Sound Select modes "Main" and "Sub" let you choose which sound source you prefer to hear. Use the arrow keys to navigate these menus and choose "Enter" to make your selections.
PIP on UHD Models
For newer, Ultra HD and curved-screen models like those in the JS series from Samsung, the PIP process is similar.
Start by pressing the remote's "Menu" button. Using the arrow keys to navigate, choose the "Picture" menu and select "PIP." Choose "On" to activate the function. You'll see a list of settings you can tweak, just as on older models, including the antenna and channel sources for the subscreen picture, the size and position of the screen and the sound source. When you have the options just as you want them, select "Close" and "Enter" to enjoy your PIP.
Just as Samsung's TV models vary, the PIP process may vary, though the basics of the process remain consistent. On some models, PIP may only be used when your PC is selected as the main picture source. Likewise, some older models disable PIP when using internet TV or V-Chip functions.