Apple provides a couple of ways to type umlauts on an iPhone. If you're only going to use German letters occasionally, use foreign symbol shortcuts on the regular keyboard. If you're going to type in the language more often, enable a German keyboard, so you can switch between languages. If you find it tricky to swipe through symbol shortcuts or don't want to manage multiple keyboards, you can also create a shortcut phrase.
Create Umlauts on an iPhone Keyboard
Open the app in which you want to type an umlauted letter and open the keyboard.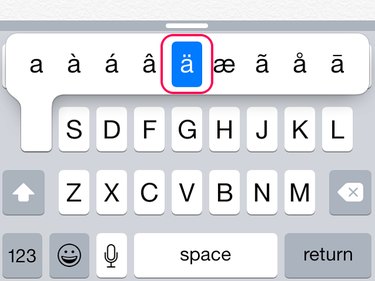 Tap and hold the letter to which you'll add the umlaut. For example to type an ä, tap and hold the a key. Wait for the symbols list to open. Swipe your finger along the line until you reach the ä and then take your finger off the screen to insert it. Use the same process using the corresponding letters to create an ö or a ü.
Add a German Keyboard
Step 1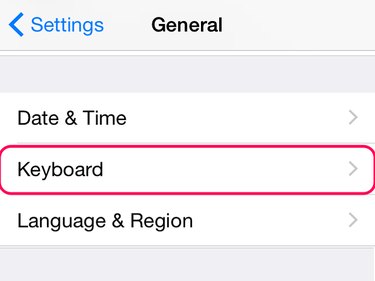 Open Settings and tap General. Swipe down to Keyboard and tap it.
Step 2
Tap Keyboards and then Add New Keyboard.
Step 3
Scroll down the options in the Other iPhone Keyboards area and tap either German (Germany) or German (Switzerland).
Step 4
Tap the new keyboard to open its settings. Make sure there is a tick mark on the German option; if there isn't, tap to enable it. Exit Settings.
Step 5
Open the keyboard in an app. Tap the Globe icon to switch between keyboards until you come to the German layout. You can now type umlauted letters directly on the keyboard.
Add an Umlauted Letter as a Shortcut Phrase
Step 1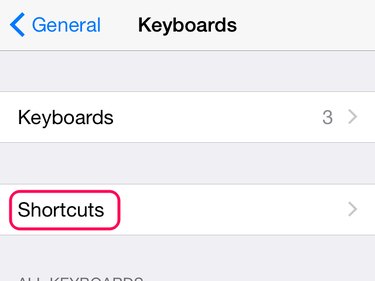 Open Settings, tap General and then Keyboards. Tap Shortcuts.
Step 2
Tap the + sign on the Shortcuts screen.
Step 3
Tap the Phrase box. Tap and hold the letter on the keyboard to which you're adding an umlaut. When you see the umlaut in the list, slide your finger to it to insert it in the Phrase area. Tap the Shortcut box. Type in a couple of letters that you'll remember as the shortcut phrase. Select Save.
Step 4
Open an app with a keyboard and type in the shortcut you've used for the umlaut. A box pop ups with the umlaut letter in it. Tap the space bar to convert the shortcut phrase to the umlauted letter. To ignore the shortcut, tap the X on the box.