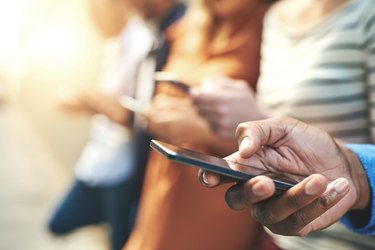 If you live in Canada, or if you visit there regularly enough to want a separate Canadian phone, many of the phones you look at will be intended for the Bell network. New phones are always sold unlocked in Canada, but that doesn't apply to used phones originally sold before December 2017. If you have one of those, you can still unlock a Bell phone for free in most cases.
The Simplified Wireless Code
Cellular service providers in Canada are regulated by the Canadian Radio-television and Telecommunications Commission, or CRTC. In 2013, the CRTC simplified the regulations around cellular phones to make them more consumer-friendly, creating the simplified Wireless Code of Conduct.
The Code was updated in 2017 to reflect input from consumers about their biggest irritations with cellular carriers Bell, Rogers and Telus. The changes capped charges for roaming and data overages and strengthened consumers' rights to change carriers. They also made it mandatory for carriers to unlock a customer's phone on request, and to sell all new phones unlocked.
Unlocking for Current Bell Customers
If you currently own a locked phone that you've been using with a Bell account, Bell Mobility will unlock your phone for free. You won't be able to do this at non-Bell retail stores, even if that's where you bought your phone. You'll need to find an actual Bell Mobility storefront where an employee will perform the unlock for you.
Alternatively, you can unlock the phone yourself using Bell Mobility's MyBell website or by phoning Bell Mobility and speaking to an agent. You'll need your phone's IMEI number and a SIM card from your new carrier. Bell will provide you with an unlock code for your phone, and the company's website includes detailed instructions for unlocking most brands and models.
Unlock a Bell Phone Without an Account
If you have a phone that's locked to Bell and you aren't currently a Bell customer, you can also have the phone unlocked for free by a staffer at your nearest Bell Mobility outlet. This wasn't immediately clear when the 2017 revisions to the Wireless Code first came into effect, and some customers complained of being charged by carriers to have a phone unlocked.
The CRTC quickly made it clear that this was unacceptable, and that the requirement to unlock phones on demand applied to the aftermarket as well as each carrier's own customers. This is now ancient history in retail terms, so you should have no difficulty.
Exceptions to the Rule
There are a couple of circumstances in which you may not be able to unlock your Bell phone for free. Three-year contracts were banned under the 2017 Code, but if you owe Bell the balance of your two-year contract, the company can legitimately require you to pay it out before they unlock your phone. In some cases, your new carrier may reimburse you for that cost.

You also won't be able to unlock the phone if you have the misfortune to buy a used phone that has been stolen. If you're buying from Craigslist, Kijiji or a Facebook buy-sell group, it's always best to require the seller to unlock the phone before you purchase it.
Bell staffers also won't be able to directly unlock an Apple phone, which must be done by Apple employees. That adds a bit of time to the process, but you won't be charged for it.
Your New Carrier
Most of the other cellular service providers in Canada are compatible with phones from the Bell network. A number of Mobile Virtual Network Operators, or MVNO's, including Bell's own Virgin Mobile and Lucky Mobile and Loblaw's PC Mobile, all use Bell's network already. Rival "Big Three" carrier Telus partners with Bell on its own network, so Bell phones will work on Telus itself and its discount Koodo brand.
The outlier is Rogers, the third of the Big Three, and its discount brand Fido. A Bell phone will work on Rogers' LTE network, as long as it's compatible with the correct frequency bands, but when you're out of LTE coverage on the Rogers network, it defaults back to the older GSM network for 3G communications. If that happens, your Bell-origin phone simply won't work.