Locking the touchpad on your laptop may be useful if you are doing a lot of typing and want to avoid accidental mouse jumps to different places on the screen. However, without the use of a touchpad, it can be difficult to get back into the computer's Control Panel to re-enable your touchpad when you need it again. Fortunately, laptops have a key combination that will get your touchpad up and running again.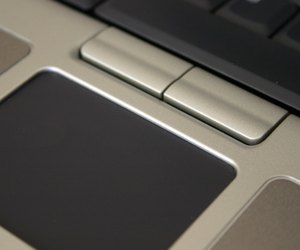 Function Key Method
Step
Locate the function key on your keyboard (F1 through F12) that has an icon of a touchpad. This is often a rectangle with two smaller rectangles below it, representing the touchpad and its two buttons.
Step
Press and hold the "Fn" key, usually found in the lower left area of your keyboard.
Step
Press the touchpad function key and then release both keys. If this does not enable your touchpad, try holding the "Fn" key down and pressing the touchpad function key twice in a row.
Shortcut Key Method
Step
Press the Windows icon key on your keyboard and hold it down until the Start menu pops up. If your keyboard doesn't have a Windows icon, press "Ctrl-Esc" at the same time.
Step
Use your arrow keys to locate the Control Panel and press "Enter."
Step
Navigate to "Mouse" with your arrow keys and press "Enter" to open the mouse control dialog box. Then, press "Alt-F" together to access the tabs at the top of this box.
Step
Navigate using the arrow keys to "Device Settings" or "Touchpad" or the similar option on your system and press "Enter."
Step
Press the "Tab" key until the "Enable" option or a check box next to it highlights and then press "Enter." Press "Tab" again until you are highlighting "OK," and press "Enter." Your touchpad will be re-enabled.