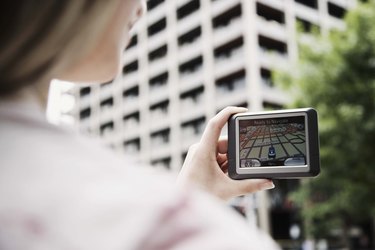 Jensen is an international electronics manufacturer that specializes in home and car audio/video multimedia products including various GPS units. If the maps on your particular Jensen GPS unit require an update or you wish to expand the map information to cover other areas of the world, you must purchase software from Navmate, an affiliate company that supplies the needed software for Jensen GPS products. Depending upon your particular model, you may be required to purchase or obtain a 2GB or 4GB SD memory card to transfer the map information from your computer to the GPS module.
Step 1
Navigate to the Horizon Navigation Online Shop (see Resources for the appropriate download page). Click on the Jensen manufacturer link located on the left menu pane. Choose your particular Jensen GPS model from the menu selection.
Step 2
Choose the coverage area you wish to update your GPS unit with and choose to download the map updating software or have the software sent to you through the mail in DVD form. Fill out the order form information including your payment method (Visa, MasterCard or American Express are the only payment methods accepted). When you receive the updated software by either download or mail, install the software on your computer.
Step 3
Follow the instruction prompts provided by the Navmate utility program with regard to updating your particular Jensen GPS unit's map software. Certain units such as the VM9022HDN, VM9022, NAV101 and NAV102 require a 2GB SD memory card while the VM9424/VM9414 GPS units require a 4GB SD memory card to update the maps. Removable units such as the NVX3000PC and NVXM1000 require a USB cord connected between the GPS module and your computer to update the maps.