Your Profile page and the Job Application page of an employer that maintains a LinkedIn Company page are the two areas of the LinkedIn website where you can upload your resume. According to LinkedIn, over three million businesses maintain a LinkedIn Company page and there are more than 300 million registered members -- which makes the website an effective platform to find employment and connect with your peers. When you upload your resume through a Job Application page, the website attaches your resume to the application for the available position. However, when you upload it through the Profile page, the website pulls the relevant information from your resume to populate your LinkedIn profile.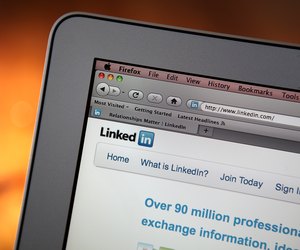 credit: Justin Sullivan/Getty Images News/Getty Images
Upload Your Resume Through Your Profile Page
Step
Sign in to LinkedIn, and then click the "Profile" tab.
Step
Click the arrow next to the Edit Profile button and then select "Import Resume."
Step
Click the "Browse" button, navigate to your resume, and then select the file.
Step
Click the "Upload Resume" button, and then check all of the fields on the page to ensure that the information pulled from your resume is accurate.
Step
Click "Save Changes" to complete the upload process.
Attach a Resume to a Job Application
Step
Go to the employer's LinkedIn Job Application page.
Step
Click the "Apply Now" button, and then click "Upload a File" in the Resume/Cover Letter section.
Step
Navigate to your resume file and select it. Click the "Submit" button to submit the application with your resume attached.